We are so excited that today is our SITS day.
For our regular readers who are wondering what a SITS day is I'll explain. SITS is a community of women bloggers who support one another. Each day they feature a different blogger who is then bombarded with comments and support from their fellow "SITStahs."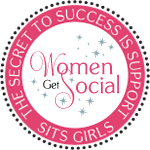 For our SITStahs: Welcome! If you like what you find here make sure to follow us and we'll follow you back
We've listed our favorite posts to give you a taste of what we do at Raise A Boy.
Sunday Confessionals: 
Teach Me Tuesdays
Things to do Thursdays
For Me Fridays
Thanks for stopping by! We look forward to getting to meet some new blog friends.